Mission
It's my mission to help people heal and learn to love themselves through my holistic approach and wellness services.
Vision
To help as many people as possible experience and learn new things about themselves and the world around them.
About us
Robyn Whitehill
Robyn is the founder of My Robbie, a holistic healing practice based in Western Australia. She's on a mission to help others reconnect with themselves and learn how to restore their bodies and minds through her services focused on the mind, body, and spirit. While on her healing journey, Robyn discovered her passion for health, personal development, and spiritual healing, which led her to travel to various countries learning about herbal health remedies from Native Shamans and volunteering in the Amazon with medical practitioners. In discovering the powers of neuro-linguistic programming and shamanic practices,
Robyn received her Master NLP Practitioner and shamanic training to help others benefit from her healing practices. My Robbie offers various mind and body services, including fitness and nutrition, spiritual coaching, holistic therapies, and day hikes.
Accreditation
15+ years working as a psychic and master NLP Practitioner
Beautician Diploma
Cert IV Personal Trainer (8+ years)
Cert 1 Nutrition
Hypnosis
Psychic Medium
Day Hike Guide
Massage Therapist (over 20 years)
World Traveller
Has Experienced Past Trauma Spiritual
Volunteered for the Rainforest Health Development in South America (worked with medical practitioners and assisted in health services)
Shamanic Healer, training in Alice Springs
Skilled in Computer-Aided Design (CAD)Autocad & Microstation
Fitness Training
Graduated from Western Australia Fitness Academy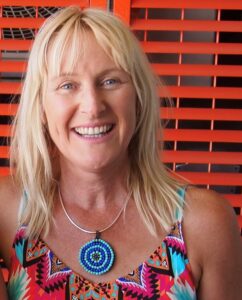 Accreditation
20+ years working as a Remedial Massage Therapist
Bowen Therapist
Reiki Healer
Crystal and Sound Healer
Worked at Chiropractic, Spa Retreats and Naturopathic Clinics.